Analysis by Noël van Bemmel in De Volkskrant, January 2, 2023
In Myanmar, hundreds of armed groups are stubbornly resisting the junta army, which staged a coup almost two years ago. Why do the generals – despite their military supremacy – fail to suppress this insurgency?
In this text (April 20, 2021) on his Facebook account Khin Maung Saw (Berlin) explains what is realistic and what are dreams in today's geopolitical order.
Follow the news in The Irrawaddy. Listen to Daw Viranani. See the latest Facebook posts by Alan Clements, InsightMyanmar, Thant Myint-U and Jan-Philipp Sendker, introduced elsewhere on this website-page. Or Shwe Lan Ga Lay's. For direct donations: Better Burma.
"In 1988 Aung San Suu Kyi began what would be called 'a revolution of the spirit.' She employed, along with the people of her country, an epic expression of non-violence. But it is deeper than that — beyond a willingness to refuse using weapons — it is the absolute refusal to villainize or demonize. The radiance of making friends with enemies. Refraining from violence. Refraining from vilification. The courageous, open-heartedness to reconcile even with those who persecute and torture. It is beyond imagination that today this woman, along with the president and numerous other elected civilians sit in a military prison in some undisclosed location in the country waiting to be sentenced to a life in prison." – Alan Clements, June 19 2021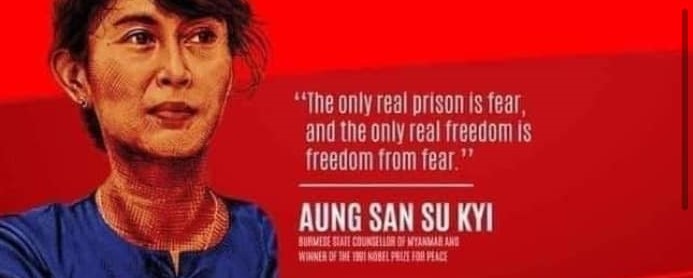 The 1991 Nobel Peace Prize winner has been strongly criticized by people who obviously need a hero who exclusively behaves according to their own ideas. However, being well versed – and experienced – in the teaching of the eight vicissitudes in the world, it seems to leave her cold wisely.
Longform interviews discussing the heart of Dhamma practice in Myanmar (Burma). We talk with monks, nuns, meditation teachers, yogis, meditators, pilgrims, authors, scholars, and more to learn about the range of Buddhist practice and life in the Golden Land.
The origins of the meditation and mindfulness movement that have swept the world can be traced back to 19th and 20th century Burma (Myanmar). And still today in the 21st century, the Buddha's teachings of liberation animate a contemporary generation of Dhamma seekers in this small Southeast Asian country. In this podcast series, we engage in in-depth discussions with a wide range of practitioners — foreigners and local Burmese, lifelong monastics to lay practitioners, and including authors, scholars, meditators, teachers, pilgrims, and more — to highlight the depth and diversity of Buddhist practice to be found in the Golden Land and explore how the Dhamma has been put into practice by those seriously on the Path.
Wai Phyo's (14) too. May he for sure have a good rebirth.
written by Thant Myint-U (New York, 1966) historian and former UN-diplomat, since 2007 living in Yangon. The overview and insight offered by Thant Myint-U is extremely worthwhile, and differentiating from the general view in the West. He has for sure the best intentions with his country and people. It must be remarked however that he seemingly does not know the Dhamma (of nonviolence and reconciliation) from the inside.
This is the title of a book written in 1898 by Harold Fielding Hall, who during his service in the British occupying forces got very impressed by the Burmese people.
In 1934 George Orwell published Burmese Days, about a British colonial.
In 2002, 2012 and 2019 German Jan-Philipp Sendker writes three books about the people of Burma.
Burma's Voices of Freedom: a study of Burma's totalitarianism and the people's resistance. Alan Clements' interviews with revolutionaries, monks, religious leaders, journalists, film makers and social activists. (September 2020).
Sayadaw U Pandita's (1921 – 2016) last advise to his country for reconciliation.
Rakhine or Arakan is the part of Burma where the 'Rohingya' conflict takes place. The situation is even more complicated because of animosity between Arakan and Burma.
Some non (or less) prejudiced journalists, diplomats and academics do speak out. Among others: Tony Waters, Derek Tonkin and Alan Clements.